This is Andres Serrano's classic and controversial
Piss Christ.
When I saw this I was overcome. My heart broke.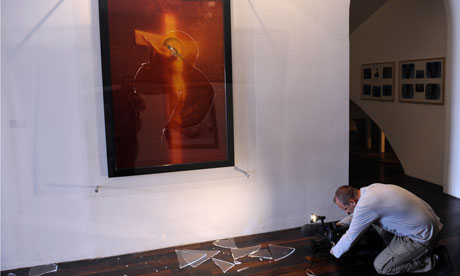 Piss Christ is one of my favorites for so many reasons.
Not only does the color draw me in, there is a calming effect as well.
The fact that it is a plastic crucifix suspended in a jar of the artists urine says so much outside the obvious feelings he has about religion.
I understand the creative mind and the often odd experimentation that goes on in the sanctity of our studios. The inspiration and euphony when pushing the envelope. The exhilaration of stumbling upon something new and the unrelenting drive to see it through to completion. Lastly, the guts to show it.
I weep.
After weeks of demonstrations, yesterday Catholic protesters in France destroyed NYC artist Andres Serrano's classic and controversial
Piss Christ.
The
UK Guardian
reports:
The work has previously been shown without incident in France, but for the past two weeks Catholic groups have campaigned against it, culminating in hundreds of people marching through Avignon on Saturday in protest. Just after 11am on Sunday, four people in sunglasses entered the gallery where the exhibition was being held. One took a hammer from his sock and threatened security staff. A guard restrained one man but the remaining members of the group managed to smash an acrylic screen and slash the photograph with what police believe was a screwdriver or ice pick. They then destroyed another photograph, of nuns' hands in prayer.
Protests against the photograph had also gained the support of France's far-right National Front party. The gallery's owner says the destroyed artwork will remain on display "so people can see what barbarians can do."
The exhibit was held at a private home and was part of a collection. This is the second time a PRIVATE exhibit has been over run with extremist Catholics.