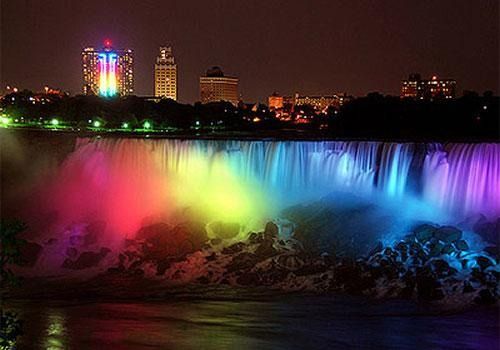 Via the NY Times
:
The first marriages were scheduled to take place just after midnight in Niagara Falls, where officials planned to illuminate the famous cascade in the colors of a rainbow, and in Albany, where an eager mayor planned to marry eight gay couples.

In New York City, 823 couples signed up in advance to get marriage licenses on Sunday, and many of those couples were expected to marry minutes later in city clerk's offices across the five boroughs. Officials from more than a dozen cities and towns from Buffalo to Brookhaven said they would open their offices to issue marriage licenses on Sunday, and more than 100 judges across the state have volunteered to officiate at the couples' weddings on the spot.
Against a cascade of rainbow-colored falls, and with cicadas humming in the background, Kitty Lambert and Cheryle Rudd married at the first possible moment in Niagara Falls. After a bell tolled 12 times to ring in the new day, Ms. Lambert, 54, and Ms. Rudd, 53, held hands and kissed in front of more than 100 friends and family members.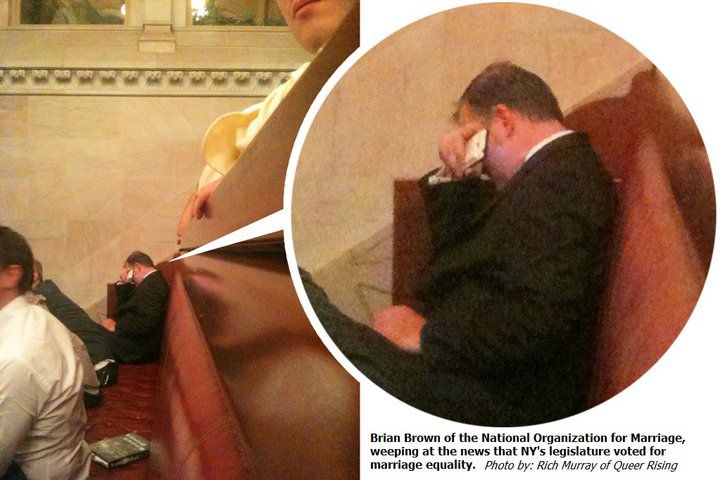 A quote from the comment section at Pams House Blend about this picture of Brian Brown crying like a spoiled child:



"He and Maggie and Bryan and Tony and Bam-Bam and Porno Pete will be relegated to the dustbin of the History of Hatred, right along with the KKK, George Wallace, and so many others, Can you imagine having wasted your life at his work? Well, he makes a damn fine pile of money doing it. But I hope we put him out of work soon. He really is a sad and pitiful human being."

Today is a joyous day for all those about to jump the broom in New York!
Congratulations to all you newlyweds !